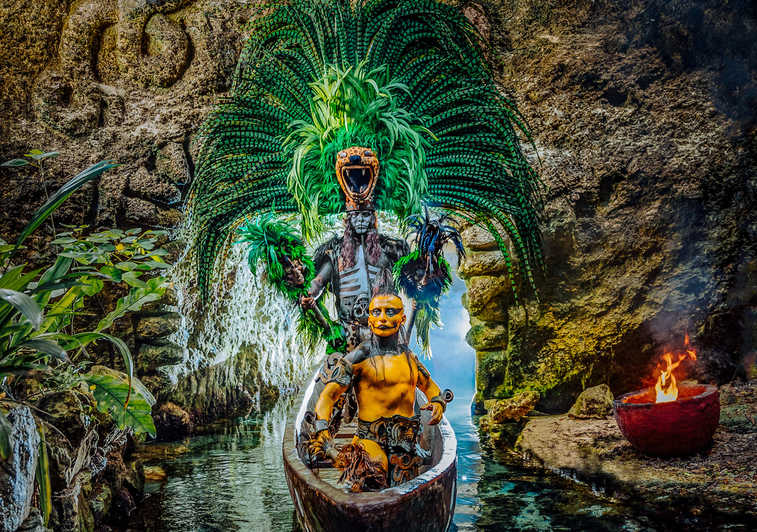 With over 50 natural & cultural attractions such as performances and amazing activities for friends & family to enjoy! It isn't a surprise that Xcaret was rated the best park in the world by Travvy awards! Xcaret, which means "Tiny Cove" is located in Playa del Carmen, Mexico, in what once was one of the most important Mayan ports & ceremonial meeting points of the peninsula. Today, Xcaret is one of the most visited parks globally because of its beauty, natural attractions, & great cultural performances!
A few of the performances include:
The "Xcaret Mexico Espectacular" show
The Papantla Flying Men
The Equestrian Exhibition 
Pre-Hispanic dances in the Mayan village
Mexican Museum of Folk Art 
Mexican Cemetery "Bridge to Paradise" 
The Hacienda 
Animals and Nature
Xcaret is home to thousands of tropical animals and breathtaking and landscapes! The Xcaret Butterfly Pavillion has over 27 thousand butterflies and their Avery has over 1,500 birds of 50 different species. 
Xcaret's beautiful coral reef aquariums have preserved hundreds of years of marine life, including Elkhorn coral, which is an endangered species. The sea turtle conservation program has freed over 12,800,000 hatchlings. 
Water Activities
Xcaret's water activities that will take you to magical locations in the realms of Chaac, "the Mayan god of rain." The underground rivers have incredible sceneries amidst the jungle! The freshness of the Mexican Caribbean sea, lagoons, and natural pools of seawater are memorable and exhilarating. 
There is also a unique new area dedicated to the little ones, Children's World. Children ages 12 years and younger will enjoy hours of fun! With water slides, tunnels, hanging bridges, climbing nets, and obstacles surrounded by nature! Children under six-years-old can swim in the shallow cenotes, wading pools, and enjoy water jets. Children can also play in the sandbox in an exclusively designed toddler area.
Hours of Operation
Xcaret is open daily from 8:30 a.m. to – 10:30 p.m. 
Your reservation includes the following: 
Access to exclusive facilities in Plus Zone, facilities dressing rooms, restrooms, and lockers.

Includes 1 lunch buffet, 1 beer, and unlimited non-alcoholic beverages (sodas, coffees, & naturally flavored waters) while consuming food.

Access to all three underground rivers (a secure bag service is included for your belongings before, and during your river journey).

Xcaret México Espectacular Performance.

Access to the beach, bay, and natural pools.

Admission to the Coral Reef Aquarium, one of the best Aviaries in North America, & the beautiful Butterfly Pavilion.

Children's World, a world of fun solely for the little ones!

Mayan village with Pre-Hispanic Dances, Mexican Horse Exhibition, and the amazing Papantla Flying Men.

Tropical Jungle trail.

 Snorkeling gear for water activities (require a refundable deposit of USD 10).

Life jackets and inner tubes.

Beach chairs, breathtaking scenic view lounge areas, and hammocks.

Other services such as WiFi, ATM, shops, etc.

Free parking.
Recommendations
You MUST be on time at your pick up location, whether hotel lobby or meeting point.

Wear a swimsuit, water shoes, and comfortable clothing. Also, bring extra clothes and a towel.

 Only eco-friendly sunscreens and sunblocks are allowed to protect the eco-system. Non-eco-friendly sunscreens can be exchanged at the information booth at the Xcaret park entrance for a sample of a biodegradable sunblock. Your sunscreen can be picked up at the information booth upon departure.

 Bring cards or cash to buy souvenirs, park photo packages, or enjoy optional activities, etc.

Children 5 to 11 years old only pay half the price of an adult ticket. Children 4 years old and under are free.  

All visitors must provide an ID (including children).

Children under 12 years of age but over 4 1/2 feet tall must show an ID to verify their age as well.

Transportation from Cancun, Playa del Carmen, and Riviera Maya is included in your Cancun Life Tours reservation.

Reservations canceled 24 hours before your confirmed tour booking date is subject to a loss of deposit. A no-show or failure to arrive at pick-up, meeting point, or hotel lobby will result in non-refundable deposits. Any change to the booking date is subject to an adjustment in the price.

It is not possible to make changes to the confirmed reservation date on the same day as the scheduled tour.
Since its opening its doors in 1990, after five years of development, Xcaret has continued to deliver the most complete leisure cultured experience, filled with passion in the Riviera Maya. 
CHILDREN 5 TO 11 PAY HALF PRICE WITH ID
FREE ADMISSION KIDS UNDER 4 WITH ID
PLEASE HELP US CARE FOR THE PLANET USING CHEMICAL-FREE SUNSCREEN